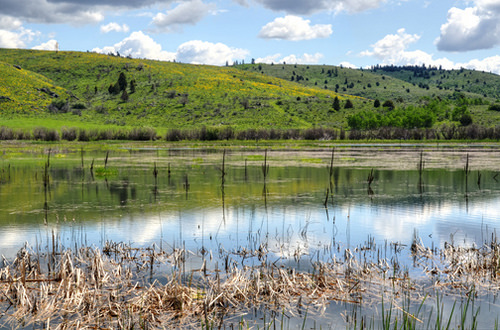 May 27, 2017:
Sand Creek Wildlife Management Area.
We tried this spot last fall but due to weather conditions it didn't work out.  However when looking for a scenic area to paint, it is easy to find one at the Sand Creek Wildlife Management Area north of St. Anthony.   We were joined by Doyle an Bea Phelps artist from Ashton. Because of the beauty of this area and the good weather forecast we decided to turn our field trip into a camping trip. We stopped, made camp and took a look around. We didn't even need to take more than three steps from the camper to find a great study of trees, willows, and a meadow.  The saturation of green, and it's many tints and values was overwhelming. However, the purples and yellows of the meadow flowers offered nice color bursts of interest which welcome us into the forground. Kara and I worked on mini 4 X 4 panels in oil and Bea worked on an 11 X 14 in acrylic. Kara and I also went on a short walk to Pond #2 were we found Geese, Loons, Mallards and Sand Hill Cranes. The foothills behind the pond looked like a fantasy land. Kara and I both worked on 8X10 panels in oil.
The background of the rolling hills was saturated with beautiful lighting, but because of the semi-cloudy conditions and the light wind, it was constantly changing. It can be difficult to choose a lighting scheme when the light rolls and changes every time you look up. This is where the planning of your composition can not be overstated. Make the value sketch and stick to it, so you won't be "chasing" the light.