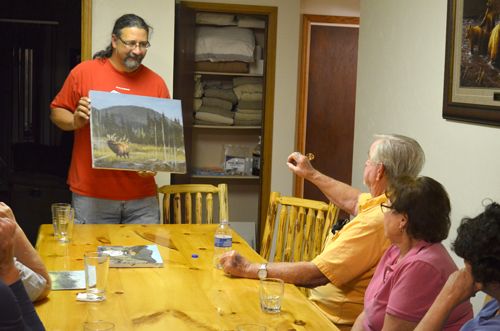 One of the greatest attributes of painting outdoors is the ability to capture the essence of the scene. This is much more difficult than you might imagine. There are many steps, building blocks, and techniques used to capture the moment and to convey the way natural sunlight feels. Our goal is to help you have success, paint somewhere new and get some fresh air.
Although this is mainly an artist retreat and the leaders will be painting alongside you, each afternoon or evening there will be classroom time where we practice skills we will use out in the field.  This is the "what", "how", and" why". The next day you will have an opportunity to exercise what you have learned and paint some beautiful landscapes. When we return in the evening we will discuss and critique works and practice a new skill for the next outing.
Advanced and Intermediate; The main focus of this Artist Retreat is for you to paint and to connect with nature. Advanced artist may use this time to take a true artist retreat, no stress, no worries ... just painting. Take advantage of the classroom lessons and critique time if you'd like. These are great opportunities for you to hone your skills and connect with your peers. Each day, try to set a goal for your painting and an area to grow in. 
Beginners; We will teach you the basics, how to set up for painting in the outdoors, thumbnail sketching, blocking in your painting, and color mixing. Fear not, we were all beginners once.