Daniel & Kara Hidalgo will be, once again, instructing the artist retreat in Yellowstone Park.  The Hidalgos founded the not-for-profit Idaho Art Lab in 2010 and have been instructing workshops at the Lab since its inception.  The Lab is the largest visual art center in Idaho with workshops and rent-by-the-hour art equipment in 16 art mediums.  They also host artist residencies and run the Yellowstone Teton Gallery of Art out of the facility.  The couple lives in Teton, Idaho about an hour from West Yellowstone.
Daniel  has been finding the inspiration for his artwork in the quiet stillness of Yellowstone's wondrous landscapes for many years.  Daniel is the Director of Education at Idaho Art Lab, where he teaches painting, drawing, sculpture and pottery.  He also creates hand-carved block images printed on paper made from bison dung, along with his business partner at Dung & Dunger Paper Arts Studio.  He has been a guest artist of the Yellowstone General Stores for over a decade.
Kara is the Executive Director of the Idaho Art Lab, where she assists Daniel with painting workshops.  She also teaches film & digital photography and computer arts & design.  Kara organizes and, along with Daniel, leads weekly plein air field trips around Fremont County, Idaho.  Her specialties in painting and photography include landscapes with water features.
---
Participants have a chance to take out one of our Try Me Out paint kits.  Eeach french easel is stocked with a different set of paints and brushes from our product sponsors.  There are two types of oil paints (walnut oil based and fast drying alkyd), watercolor and acrylic paints along with paint brushes from our product sponsors.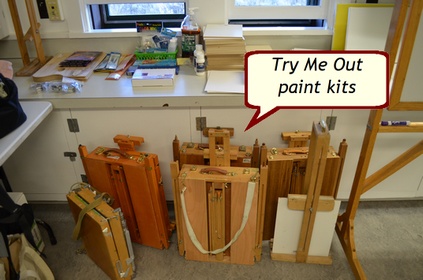 ---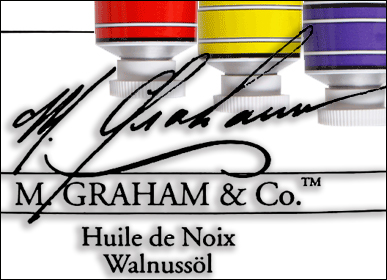 M.Graham in West Linn, Oregon is, once again, co-sponsoring our product demonstrations, providing a set of paints in oil, acrylic and watercolor mediums.  Three french easel Try Me Out paints sets will be filled with these paints, allowing our participants to try out a new medium or test for themselves if M. Graham is a superior paint to what they've been using.  Our instructor, Daniel Hidalgo, has been using M. Graham paints for over 20 years since it was introduced to him by Art Graham himself.
---